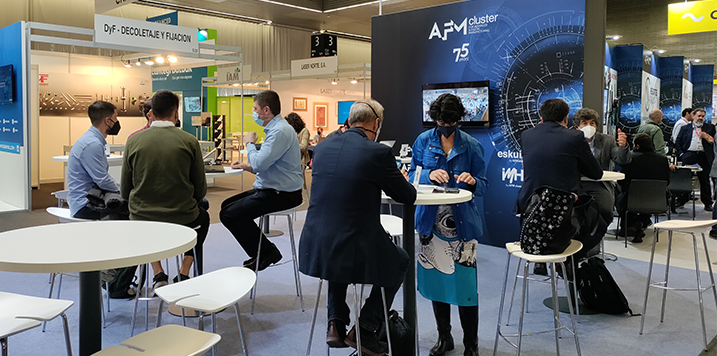 21 December, 2021
AFMEC, the association that brings together companies from the machining, cutting, metalworking, distortion and metal-mechanical transformation sectors in Spain, has incorporated fifteen new member businesses during 2021. This consolidates AFMEC as one of the main industrial associations at national level, with 174 member companies.
At the same time, AFMEC has been increasing the activities and services it carries out for the companies in the sector. Some highlights of 2021 include the group participations organised in the +Industry and Metal Madrid trade fairs, national scale benchmark industrial events that boasted great participation from AFM Cluster member companies, including AFMEC. Both events held B2B encounters to promote collaboration between clients and suppliers.
During 2021 a host of virtual technical training activities were also held. This is a new training activity that enables students to receive training without the need to travel, thanks to an online connection with the lecturer.
Special mention should also be given to the grant management service, which experienced intense activity this year. Specifically, AFM Cluster has processed 57 grant applications within the Renove programme for machine-tools published by the Ministry of Industry, Trade and Tourism.
Also of note are the activities being held regularly, such as the publication of six-monthly situation reports on the evolution of the sector, and the management of technical consultations from potential clients which are shared between member companies. At the beginning of the year, a new catalogue of members was published. This document showcases the capacities and processes developed by the member companies and it has been distributed throughout the year to potential clients and several stakeholders.
Facing into 2022, AFMEC has set itself the goal of continuing on the path of growth that enables it to represent the Spanish machining and metal-mechanical transformation industry, building a consistent, comprehensive and distinctive image of the sector and contributing information thereon. At the same time, in addition to offering specialised services developed based on the needs conveyed by the companies themselves to the association, AFMEC aims to be a forum for sharing information and promoting business cooperation, creating networking opportunities among the different market players.