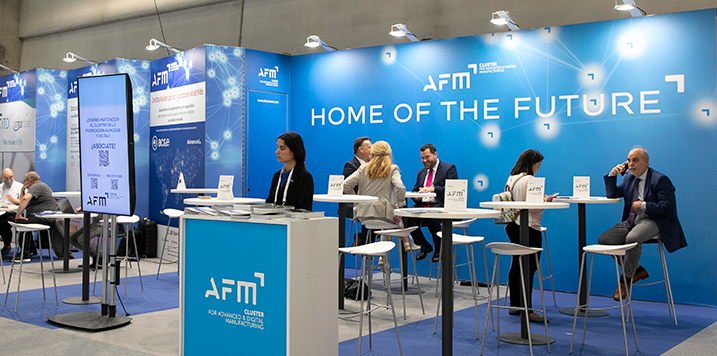 03 October, 2022
The Advanced Manufacturing Madrid 2022 trade fair is to be held on 19 and 20 October at the IFEMA convention centre in Madrid and will host over 600 exhibiting companies.
AFM Cluster will have 93 associated companies exhibiting at the event from AFM, ADDIMAT, AFMEC, ESKUIN, STECH, UPTEK and Partners, including a joint participation by 26 businesses organised by the association itself.
Furthermore, AFM Cluster is organising the 9th edition of the B2B encounters in Advanced and Digital Manufacturing to be held at our stand (Pavilion 4, Stand C14) throughout the fair. For this edition, we will be joined by the associations ANMOPYC (machinery for construction, public works and mining) and ASPROMEC (Association of Professionals for Machining Competitiveness).
Participation at these events is open to all sectors associated to AFM Cluster (machine-tools, additive manufacturing, machining, metalworking, cutting, hand tools, industrial supplies, automation, robotics, digitalisation and new technology-based businesses), as well as Partners and potential clients that may be interested in arranging meetings with different players in their supply chain.
Participation is free for AFM CLUSTER businesses (€100 fee for non-associates).
To take part in the B2Bs, attendees must register with the event and obtain free admission to Advanced Manufacturing Madrid 2022 by clicking here.
Register to participate in the B2B meetings: https://9-encuentro-fabricacion-avanzada.b2match.io
https://9-encuentro-fabricacion-avanzada.b2match.io/