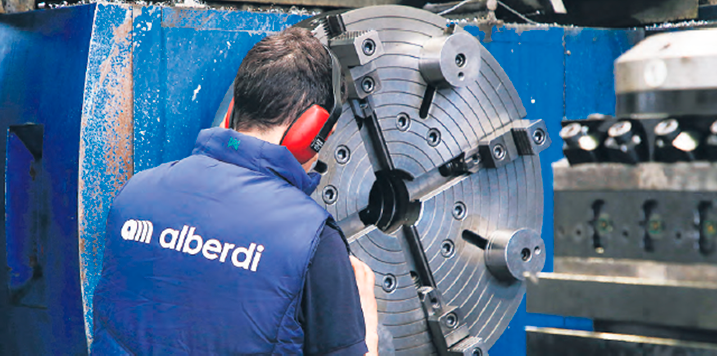 27 June, 2023
It's almost three years now since Alberdi Mekanizatuak acquired the Mecanizados Gurrutxaga business unit and we can safely say that this decision taken by the family business founded by the Alberdi brothers at their country home of Zabale de Azkoitia back in 1958, was the right decision. Not just in terms of the exemplary integration of the two work cultures or the expansion of the workforce to 40 employees (30 on the machines and ten between the structure and the offices), but also in terms of results.
Since the merger was carried out in October 2020, Alberdi has increased its turnover by 42% from the 3.5 million it sold on its own to the over 5 million it recorded in 2022. Based on the 2023-2025 Strategic Plan, these results are expected to repeat this year as part of a sustained growth pattern of 5% per year over the coming years.
Alberdi had been carrying out its activity in an industrial bay next to the country house where the company was founded until six years ago, when it made the milestone move to its current facilities at the Ugarte industrial park in Azkoitia in 2017. Two buildings with surface areas of 2,000 m2 and 1,000m2, respectively, where Alberdi performs its main activity of machining and all related activities: stock control, welding and metalworking. And, above all, a growing mechanical assembly service that brings added value and enables the company to offer an end-to-end service on every project.
Acquiring Gurrutxaga, however, gave them a quality boost in terms of dimension, taking Alberdi from manufacturing parts with diameters of 300/400 mm to expanding the range with diameters of up to 1,400 mm in the last three years. Alberdi offers its plate turning services (the largest parts up to 1,400 mm), bar turning (the smallest parts) and machining and milling centres, mainly in Gipuzkoa. It exports 7% of manufacturing (4% to Switzerland through a major client, and 3% to France).
"Proximity is important in order to offer all of our services", adds Aitzol Alberdi, manager of Alberdi. Most of the company's turnover is attributed to 15 large, renowned clients in the Basque Country, although there are also several smaller clients bringing in revenue of 5,000 euros per year or less.
Liebherr has been Alberdi's top client in recent years, however its portfolio also includes other large companies such as Sarralle, Ulma Packaging, Siemens Gamesa, Danobat, Aitek-Juaristi, Fagor, Biele, Hine, Glual, Arcelor or Celsa Jaso, diversifying services in the machine-tool, wind power, capital goods, hydraulic energy or metalworking sectors.