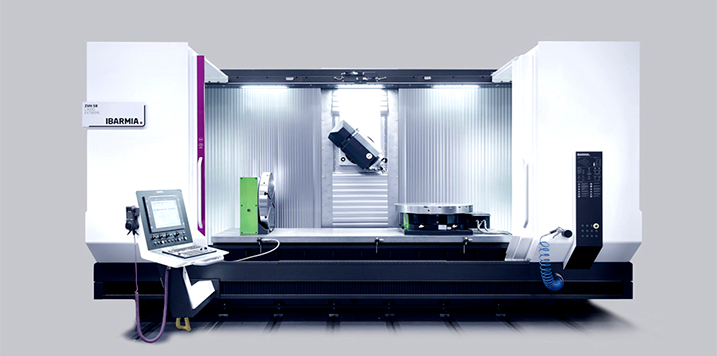 21 June, 2023
Amets, a company specialising in general machining of all types of parts, has acquired a ZVH 58/L4000 Multi-process mobile machining centre Ibarmia to cater to growing demands in terms of complexity and variety of parts. The company undertakes machining of a wide range of part types in short series and needed to invest in a machining centre capable of responding to this huge demand with solvency and precision.
Amets supplies a range of industries, such as the steel works industry, oil and gas, glass and aluminium packaging or the automotive industry; sectors that in many cases are seeking highly complex geometries. Amets' relationship with Ibarmia goes back to 1998 when it first acquired an Ibarmia machining centre, a ZV 45 Extreme, which despite its considerable age, still remains in production.
Amets is a clear example of loyalty resulting from a good prior experience with Ibarmia machining centres. So, when it came to sourcing this new machining centre with better and broader features, the excellent performance of the old ZV 45 machine definitively tipped the scales in favour of Ibarmia. Since the days of the ZV 45 Extreme, the versatile platform of Ibarmia mobile column machining centres has gone through an increasing and successful technological development, the maximum expression of which is to be found in the versatile ZVH Multiprocess multi-task machining centres; used for milling jobs up to 5 continuous axes with vertical and/or horizontal lathing capacity. The program allows structurally adaptable models to be configured for all sizes of electrospindle, which can go from 1,600 to 12,000 mm of longitudinal run, offering an extremely extensive catalogue of options, which together offers levels of customisation that other manufacturers would struggle to match.
Amets in particular opted for Multi-process model ZVH 58/L4000, a 5-axis machining centre with a vertical lathing capacity of 4 m of longitudinal run, equipped with a HSK A-100 electrospindle of up to 84 kW. The model also has a built-in tabletop divider as the 6th axis, which can be used both vertically and horizontally.
In synthesis, it's a configuration that means that Amets can take on all kinds of orders with the utmost flexibility, even more so in the volatile and changing current market climate.
Lastly, it bears highlighting that Amets' satisfaction with the results of this model and its relationship with Ibarmia has led to the recent incorporation of another Ibarmia machining centre by Amets; in this case a ZVH 45/L1600 Extreme, which is bound to result in improved speed and performance for this expert manufacturer specialising in the manufacture and assembly of precision tools. The subcontractor now has two Z Series mobile column machining centres, bringing greater capacity and precision to its high production standards.