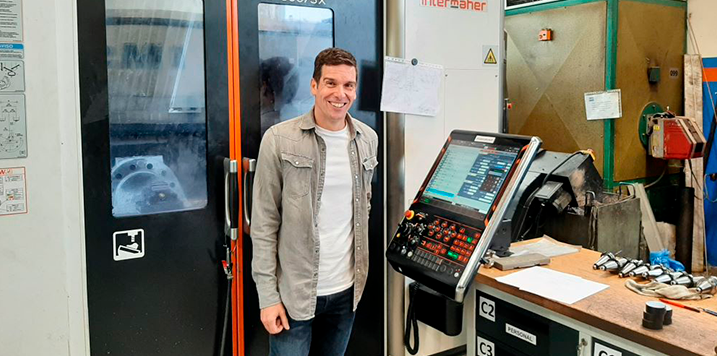 23 September, 2022
Bronymec is an SME located in Elgoibar that performs machining of plastic parts for sectors as diverse as energy, railway, pharmaceuticals, food and machine tools. The company, which has been in operation for 27 years, has set itself the challenge to move into additive manufacturing, with lightweight parts, in the near future. It has received economic aid from the SPRI Group through the BDIH Konexio scheme with which the Basque Digital Innovation Hub is providing SMEs with the connected network of advanced manufacturing assets and services for training, research, testing and validation.
Bronymec was set up in 1995 by Agustín Cristóbal with the aim of distributing and machining non-ferrous metals and the move from metal to plastic parts began in 1997. "These days it's the main line of business: over 80% of our manufacturing corresponds to the machining and distribution of technical plastics and composites," explains manager Ander Cristóbal, who is at the helm of the family business founded by his father.
In 2012 the company set up what was then referred to as the technical office, "because we had to help the client in the transition from metal to plastic. We worked on over 80 formulations of polymers and it was tough finding the right material for each of the applications." Now they employ five staff in the engineering area. "Our hallmark lies in the process of selecting the right thermoplastic material for each of the applications."
Furthermore, the company has evolved in the transformation and has been delving into additive manufacturing for two years now, "with 3D parts always made of polymers. We basically don't make anything metal any more."
Bronymec's main clients are the energy, railway, pharmaceutical, food and machine tool sectors. It offers thermoplastic and composite parts in a range of geometries and sizes. "They are machine components involved in friction, like sleeves, and sliding components. Size range from a cap to a table. What makes us stand out is the material. We have developed a specific polymer and composite machining service."
The company has a workforce of 21 and turnover is set to reach 4.3 million this year, 27% of which corresponds to exports. The company's products reach 12 countries, principally France, Switzerland, Italy and Germany, "although we also have clients in America and Morocco." Additive manufacturing "is working very well. We want to set ourselves apart in specific design for additive manufacturing, or DfAM. We have staff exclusively working on that."
The aid received from the SPRI Group through the BDIH Konexio scheme has been allocated specifically to additive manufacturing, a process that the company structures into three stages: design, manufacturing and post-processing. "In post-processing we have seen great advancements in a short time at a global level. We are doing research into functional post-processing to improve the properties of the component. We contacted Tekniker and we wanted to improve the tribological conditions, i.e. the friction properties, the friction coefficient and the resistance to wear and tear. We noticed that there was very little research in that area and we did concept tests to see what technologies gave the best response." The project consisted of improving the roughness and coatings in order to optimise resistance to wear and tear. "We have completed this stage now and we are applying it in our parts."
The company's main challenge is growth "to get closer to the size of our European competitors." So the target set for 2026 is to reach a turnover of 6.5 million euros, export a third of total manufacturing and bring the workforce to 28.
In terms of the business, in addition to continuing to evolve polymer and composite machining, the business will focus on additive manufacturing. "We are focusing on a more efficient design: lightweight parts designed for efficiency. We already offer a service called Luma, which is working very well."
Another medium-term line are very high-performance plastics, known as polyimide, "which is the most advanced polymer material known in the industry". It is geared towards sectors like aerospace, hydrogen and the so-called ultra-high vacuum, which includes the construction of particle accelerators or nuclear fusion.
Source: Spri.