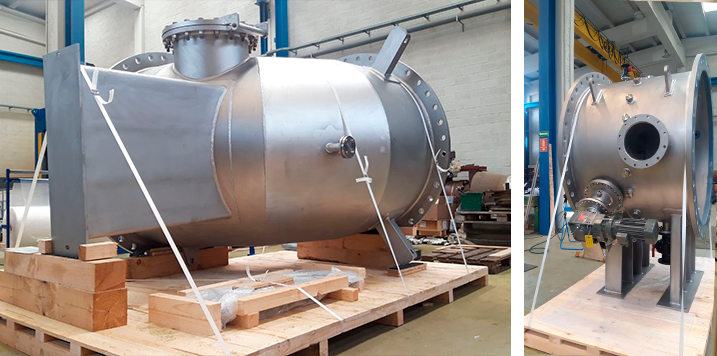 31 May, 2019
Construcciones Mecánicas Aranzazu is advancing in the development of its internationalization plan, which has its focus on Germany and France. Precisely, it is building two filtering equipments for water treatment in refrigeration circuits with destinations to factories in Malaysia and Oman, through a French engineering company.
The first one, which is currently in the assembly phase at its facilities in Artea, will be delivered shortly to the extension of Ombilin Powerwer Plant, a coal factory located in Malaysia.
The second equipment, is in full process of manufacturing in the facilities in Arantzazu, will work on the modernization of a liquefied gas plant in Oman. In this case, the order is planned to be supplied by the end of this month.
Construcciones Mecánicas Aranzazu reinforced its productive means last year, which allowed them to achieve a significant increase in manufacturing compared to the year 2017, increasing its sales by 16.6 percent, up to 3.5 million Euros.
A good part of this improvement can be attributed to their growth in the segment of industrial maintenance business, in which the increase stood at 8 percent, going on to represent a 17 percent of the total turnover of the company.
Their objective is to continue taking steps in business niches and, for this; they are contacting new potential clients, expecting to close contracts throughout this year with several of them. Their objective for the year is to achieve a 15 percent increase in this part of their activity.
In parallel, those responsible for the company, which will be present at the subcontracting fair at BEC, from June 4 to 6, are working to attract new international clients and to enter new sectors, such as the railway sector. In order to achieve this, they have recently started conversations with CAF.
Also in the Basque market, they have intensified the collaboration with Fagor Arrasate. Previously, Construcciones Mecánicas Aranzazu only supplied machining work to the company, but has now gone on to supply complete equipment. They also work with the subsidiary of Irizar Alconza, for which they supply carcasses for its engines.
They have also started working with Elytt Energy, specializing in the design and manufacture of superconducting magnets for particle accelerators.