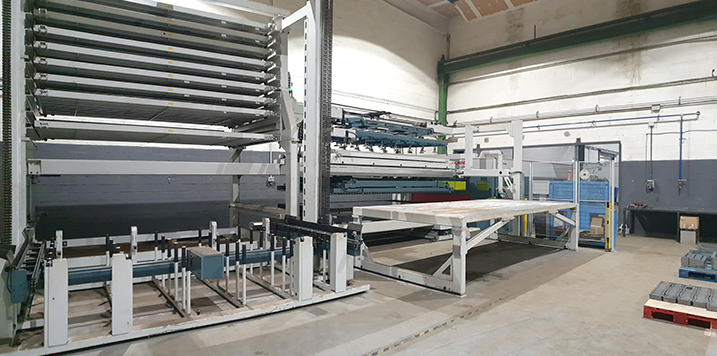 03 March, 2022
2021 has been the year in which EDERKALDE has reinforced its positioning on the market by expanding its facilities with an additional 1,500m2 and investing in a new laser cutting line. The consolidation of high-demand customers from the farming and road signage and control infrastructure sectors has enabled EDERKALDE to undertake these new investments, facilitating its advancement in the digitalisation of its facilities.
Specifically, the new investment made in 2021 consisted of setting up a dumper chassis manufacturing line for the farming sector. This new line is completed automated and digitalised, with continuous operating control. The manufacturing plant has been restructured and the new equipment incorporated, specifically a DURMA laser with a 4000x2000mm table for cutting of up to 30mm and a 10kW power capacity. It has an automated sheet metal warehouse for supplying the material, a manufacturing line comprising a CNC sheet metal folding machine with a capacity to fold thicknesses of 30mm (220 Tn) and a built-in cell for processing welding, finishing and preparing semi-finished products for delivery.
The new investment provides improvements in EDERKALDE's productivity, flexibility, safety and capacities. Since it is connected to EDERKALDE's existing tools, it establishes information flows with the technical office, the workshop and the management. This all means that EDERKALDE can tackle the 4.0 paradigm from its newly equipped facilities, monitoring processes, following up incidents, defining maintenance strategies and optimising production.
EDERKALDE was founded in 2008 and through the strategy of offering a competitive product that provides high value to its customers, it has been consolidating in the precision metalworking sector as a benchmark in the manufacture of machine-welded sets. One of its competitive advantages is having an integrated metal parts forming process, from laser cutting, folding and welded reinforcement to machining.
In recent years, EDERKALDE has been making significant progress in digitalising the workshop. The new investment enables it to perform predictive maintenance, calculate costs and calculate consumption. It also calculates working times, stoppage time and efficiency, as well as instantly monitoring the status of the machine and controlling it remotely, obtaining user reports. Furthermore, the project enables it to incorporate state-of-the-art laser technology, providing higher performance and reliability and is fully integrated with the automatic sheet metal warehouse. These characteristics, coupled with the incorporation of the advanced integration and control software of this equipment, means that EDERKALDE can make headway in the automation and advanced communication of its production processes with a focus on continuously improving and maximising profitability, taking qualitative steps towards Industry 4.0.