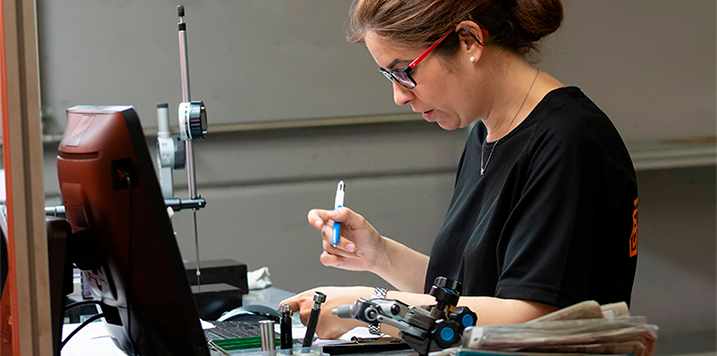 15 June, 2021
Throughout the machining process, there are several variables during production that can affect the OEE result (Overall Equipment Effectiveness). Thus, it is fundamental to monitor the manufacturing status of the parts constantly. Ensuring that machining is correctly executed, making the necessary adjustments, and even stopping the machine if necessary to prevent a faulty batch.
FACTOR, with its goal of advancing in Industry 4.0, is one of 6 pilot trial companies implementing the solutions of the i4Q project (i4Q _ Industrial Data Services for Quality Control in Smart Manufacturing). i4Q is a project financed by the European Horizon 2020 scheme. Its goal is to provide industrial companies with a reliable data solutions systems (RIDS – Reliable Industrial Data Services) based on the IoT (Internet of Things). The project is comprised of 22 solutions designed to automate fault detection and autonomously adjust the parameters in the machine to eliminate these faults.
One of the main success factors for the project consists of identifying the possibilities of incorporating cutting-edge IoT-based technology into the machining processes at FACTOR From now on, FACTOR is collaborating with the developers of i4Q, involving its technical team and housing the solutions at its facilities.
FACTOR currently has in place a M.E.S. system (Manufacturing Execution System), which enables it to obtain data on the status of machines, or measure OEE indicators. This information is used to adjust production in real time, but it is not analysed or stored to enable possible future faults to be predicted. The solutions that i4Q will provide will enable countless data to be analysed in order to avoid future faults, as well as losses of efficiency, performance and production quality.
Quality is a priority at FACTOR and its goal is to achieve the Zero Defects standard. To achieve this, FACTOR has put its own total quality system in place. By implementing the i4Q solutions, in addition to all its current methodology, the aim is to reduce the number of faulty parts to zero. This will boost efficiency and performance indicators. The benefit obtained will be more stable and efficient production, with the resulting reduction in costs obtained when the Zero Defects target is reached. These savings are passed on in the end price of the product, which in turn improves the competitiveness of FACTOR and its customers.