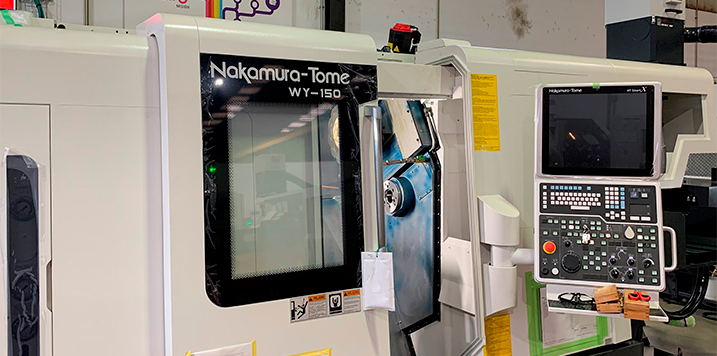 13 March, 2023
On 8 February last, the company Factor Ingeniería y Decoletaje, a family business founded in 1982 that offers industrialisation, integration and smart manufacturing services to advanced industrial sectors, received the new Nakamura-Tome WY150 compact loader, represented in Spain by Daunert, at its facilities in Puçol, Valencia. A multi-task CNC lathe with two (2) axes (±45mm y ±35mm) and an opposing spindle, allowing simultaneous cutting with 2 tools, a feature which guarantees more balance processes and faster processing times.
Thanks to the incorporation of this technology, the industrial capacity can be increased to manufacture parts of up to 515 mm in length and 190 mm in diameter. The lathe has 2 turrets with a capacity to hold 48 tools. One of its main features is the incorporation of a built-in loader/feeder. This significantly reduces the cycle time of the parts that require loading/unloading of pre-formed or raw components cut to size, removing the placement task performed by the person operating the CNC.
A new version that contributes to the efficiency and growth of the Valencia-based company, catering to short-term needs and offering greater available capacity for new products in the lathing field.