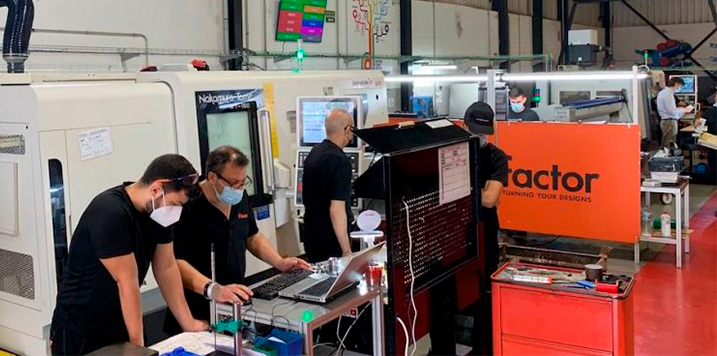 23 July, 2021
FACTOR increases its machining and turning capacities through its two strategic lines of technology and productivity.
FACTOR's investments are always made on the basis of three parameters:
Following their strategic lines of growth
Catering for client needs
Increasing productivity while reducing costs
On this occasion, FACTOR has increased its productivity with three new pieces of equipment:
Turning: Nakamura WY150 Compact Loader
This new equipment can produce parts with diameters of between 20 and 150mm.
Its key feature is that it incorporates a loader/feeder for compact semi-finished or raw components, developed with space saving in mind. This is a loading/unloading device built into the machine.
It cuts down on cycle times times for parts that require loading/unloading of pre-formed or raw components cut to size (not from bar), removing operator intervention (manual part-by-part feeding), which reduces the cost of the part.
Machining: Kitamura HX300 Machining Centre
In line with its investment strategy in new product lines, this centre increases its technological capacities and its parts range.
Characteristics of the machining centre:
4-axis CNC horizontal machining centre
Maximum part dimensions: ø500×745 mm
Medium and long series
Starting material: block or pre-formed part (melting, injection, stamping, etc.)
This machining centre is integrated with the rest of the Industry 4.0 equipment and the production process is controlled online.
Finishes: Finishing equipment
To reinforce the finishing section, FACTOR has incorporated a piece of equipment that can meet a wide range of surface requirements.
To create a perfect and speedy finish for different types of parts, both lathed and milled.
More post-machining finishing options are now available. They are now equipped to debur, smoothen, roughen, buff and polish any type of part in any material.