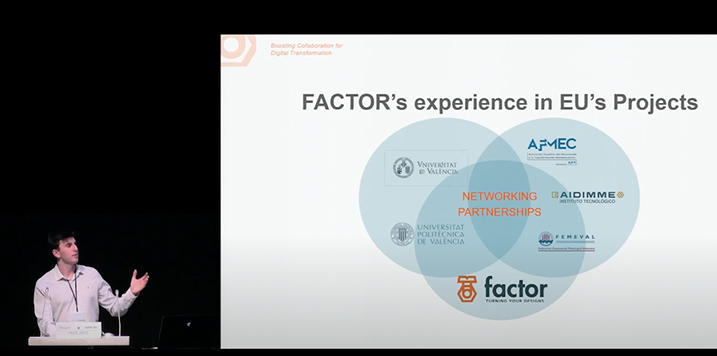 04 February, 2022
On 14 December 2021, the "Boosting Collaboration for Digital Transformation" Workshop was held in Valencia by the UPV (Polytechnic University of Valencia), with the goal of showcasing Digital Innovation Hubs from different European countries and highlighting the importance of collaboration between institutions and companies in the field of innovation and digital transformation.
FACTOR was present as an example of a company involved in multiple projects. In its participation, the Valencia-based company showcased its experienced, highlighted the value of networking between institutions and companies and called on SMEs to play an active role in research and development. Specifically, its presentation stressed the importance of collaboration between technological and research centres, universities and business associations. "R&D&i, which normally takes place outside the industry, must be incorporated into the Strategic Business Plan, as the main pathway towards increasing our competitiveness". For SMEs, participating in research projects with institutions is a starting point, getting us into the methodology and culture of R&D&i, and it gives us access to grants and subsidies, as well as being a unique opportunity to contribute all our experience in manufacturing processes", highlighted FACTOR.
Factor is currently involved in two projects developed with European funding. Firstly,"Industrial Data Services for Quality Control in Smart Manufacturing (i4Q)" is a project developed under the H2020 framework with the aim of devising 22 Artificial Intelligence solutions, in the form of micro-services applicable to the industry, where manufacturers from any sector can make smart use of the data they generate. The role of FACTOR as an industry is to implement the solutions developed at their own factor and its participation is key for validating the technology and its application in the industrial setting.
Secondly, the Valencia-based company is also taking part in the "ECSolutions" project, developed with European Regional Development Funding (ERDF), thanks to the Valencia Innovation Agency, which aims to bring Artificial Intelligence into factories, using devices with computing capabilities alongside machinery, enabling data processing independently to any cloud service.
During 2022, Factor will be taking part in two project proposals under the Horizon Europe framework of Next Generation funds, both aligned with Industry 4.0 technological developments. Furthermore, although it will not receive direct funding, it will also take part in the "Industrial Production and Logistics Optimization in Industry 4.0" project (i4OPT), which will contribute ideas and validate the development of some of the 500 optimisation algorithms proposed in the project.