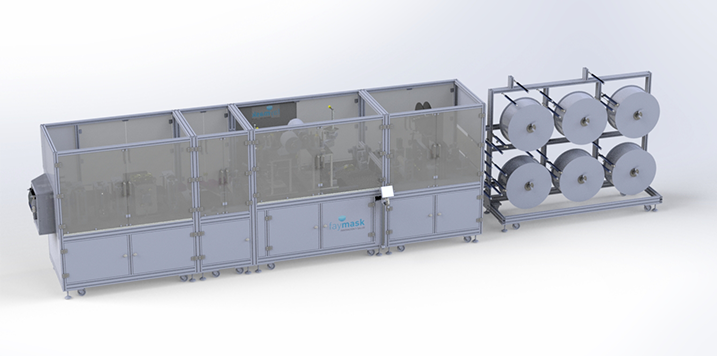 21 September, 2020
Faymasa launches a new line of business, the Faymask mask production machines. With facilities and equipment that are characterized by their high productivity and reliability, the machines are manufactured and fully assembled at the Faymasa facilities in Palencia.
Faymask is a project for the design and manufacture of mask production machines that is launched to the market as a business opportunity for entrepreneurs and companies interested in reconverting their activity into the manufacture of masks in view of the great demand and current need in the market for this product.
The design of the machines stands out for being a compact and modular solution to be able to expand the degree of automation of the processes depending on the requirements and needs of the client, until reaching the total automation of all processes. The technical solutions represent a clear difference with respect to other machines imported from Asia, especially from an ergonomic and occupational safety point of view. They carry a rigorous quality control in the manufacturing and assembly processes, manufactured with components from brands such as SMC, Siemens, Schneider or Rinco, among others.
Automatic mask manufacturing lines have fully automated manufacturing processes. They are characterized by their high reliability and performance in the assembly of FFP2 and FFP3 self-filtering masks. They comply with European regulations for safety at work and CE certification standards, as well as with the FFP2 technical specifications and certificates for the approval of masks, for which the manufacture must be by ultrasound and not sewn. They allow a production of 40-50 units per minute and have optional modules to customize the manufacturing processes.