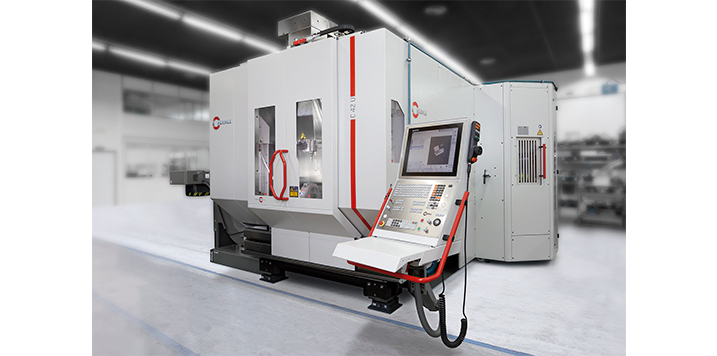 31 May, 2022
With the acquisition of this new machine, Goimek strengthens its capabilities in 5-axis machining, as well as in total machining hours for parts in this sector, thus consolidating its position. This transaction is part of the strategic plan of the Itziar-based company, and comes in addition to the investments made in recent years, such as the 16-metre multifunction travelling column milling machine, the Zeiss three-dimensional solution and the SORALUCE PM 10000 milling machine acquired in 2021, among other equipment.
The HERMLE C42U machine purchased by Goimek has a total of 5 axes, 3 of them on the X tool: 800 ; Y: 800 ; Z: 550mm and 2 on the swivelling circular table with 420mm chuck. It also has a measuring system with a resolution of 0.0001mm and an axes positioning and repeatability of 0.005mm, an automatic tool changer and a 92 tool magazine.
Its 15,000 rpm and 31 kW power head enables all kinds of materials to be worked in an optimal way. The robust architecture and high capacities of this machine make it possible to ensure the high accuracies required by customers for materials such as titanium, stainless steel, nickel alloys, etc.
The machine integrates the latest version of the Heidenhain iTN 640 control unit, an intelligent and intuitive interface with a fully digital control concept, where all components are connected to each other via purely digital interfaces. This allows a high availability of the complete system, which is suitable for diagnostics and insensitive to interference from the main computer to the measuring device. The excellent properties of Heidenhain´s fully digital concept guarantee maximum precision and surface quality at high traverse speeds at the same time.
Goimek has solid experience in advanced machining processes for highly demanding sectors such as aerospace, where it offers customised solutions adapted to the needs of each customer in materials such as titanium, aluminium, stainless steel, inconel, invar, among others, as well as technical and professional support in machining engineering.