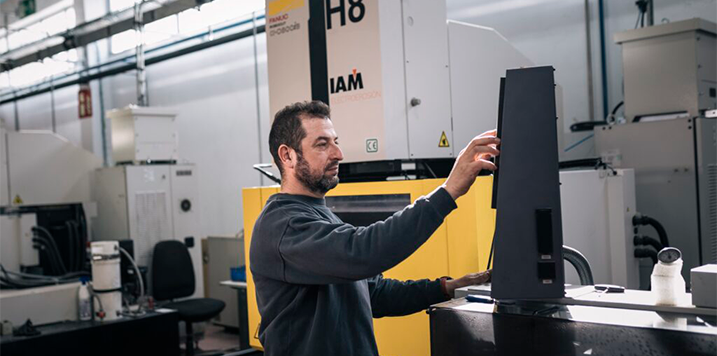 03 June, 2022
The IAM Group currently offers a high-precision cutting service with over 40 years of experience in the sector and has expanded its facilities and activity to adapt to the market and add new functions.
IAM (Industria Auxiliar de Matricería) was founded in 1981 with the aim of focusing on thread and penetration electroerosion for the manufacture of dies, moulds and special parts. After 17 years, IAM Cut was introduced to offer waterjet cutting services to clients and render cutting services for all types of materials, metal or otherwise. Finally, in 2015, having observed the need to offer cutting services for high-precision, highly complex and large-scale parts with low thicknesses and in all types of materials, IAM Micro was set up, the first company in Spain offering waterjet micro cutting.
Thus, the Gipuzkoa-based firm is capable of offering high-quality cutting in thread, penetration and perforation electroerosion, waterjet cutting and waterjet micro cutting. According to Mikel Ariztimuño, manager of the IAM Group, "after completing the move to the new facilities in 2021, we will be incorporating a machining centre aimed at giving support to the two cutting activities: electroerosion and waterjet cutting". "With this new addition, we will be able to deliver the most finished product possible, without having to resort to third parties", he states.
Furthermore, with the commissioning of the new conventional machining activity "we are assessing a workforce expansion to our current staff of 30 employees", Mr. Ariztimuño confirms. The firm, located in Bergara, is at the forefront and is equipped with the most modern manufacturing process technologies. "We have recently acquired an electroerosion machine that can cut thicknesses of up to 500 mm and we are considering incorporating new waterjet cutting equipment", remarked the manager.
The company is working for several sectors, such as the renewable energy, railway, food, machine-tool, automotive, aeronautics, nuclear, electric engine or construction industries, among others. Renowned names such as the Ulma Group, ENSA or the Fagor Group have already placed their trust in this Basque firm, which turns over approximately 5 million euros annually.
The IAM Group mainly operates on the domestic Spanish market and also in France, where "we are assessing how to develop further" says the manager.