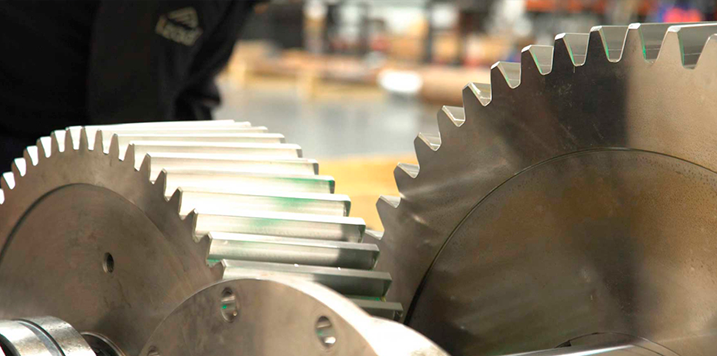 28 September, 2022
2022 is launch year for IZDIT, however, Izadi has in fact been operating for over 30 years in machining and manufacturing power transmission parts, as well as case boring and assembling industrial complexes. With IzdIZDITit, Izadi has gone a step further and committed to offering an own-brand product which includes the design and manufacture of gearboxes as well as the implementation of a charging test bed with an outstanding technological fault prediction component.
"IZDIT is a differentiated product because all our industrial gearboxes are built with a comprehensive approach across all areas involved in the process: design, manufacture, heat treatments, assembly and IIoT test beds. And this is all done from our own 10,000 m2 facilities located in Rentería, without having to depend on third parties," explains Beltrán Ybarra Malo de Molina, the company's general manager. Ybarra is, what's more, the brains behind a Strategic Plan that commenced in 2008 and that aims to bring the Izadi Group to the forefront of the sector.
The fact is that Izadi has gone from being an industrial machining workshop specialised in gear shaping to a corporate group integrating several machining companies and thus offering a wide range of services, from standard machining to large-scale machining (Albicein) or high-precision machining (Denatek), to the development of a Laser Cladding and Hardening Cell, and the creation of a Metrology and Quality unit for external services and —the star feature— the creation of IZDIT as gearbox designer and manufacturer.
"For us, innovation is a fundamental part of corporate sustainability. IZDIT is just that: a commitment to innovation, to a client-centred approach and one in which technology plays a very significant role. Thanks to our patented algorithms, to the sensors used and the machine learning system we work with, we are able to get ahead of the breaking points and even predict what part is going to fail. Maintenance actions are no longer corrective, but rather preventive, which means we save on both time and effort. And this saving is, more than ever, vital for companies," according to Beltrán Ybarra, who goes on to say: "But all of this would not be possible without the collaboration of other companies and the synergies this creates. In our case, we have joined forces with Aingura IIoT and with Talens and together we have developed our IZDIT industrial gearboxes, a product that is already on the market and is enhancing efficiency for our clients."
Source: Interempresas.