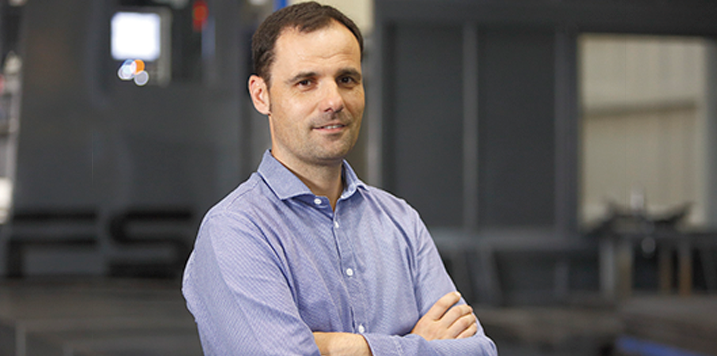 10 March, 2021
The contract manufacturing and mechanical engineering industry has seen a drop in turnover in 2020 by 17.24%. Analysed by sub-sectors, machining fell by 18.53%, while boilermaking and metal forming dropped by 13.51%.
"After the good results of 2018, in which our companies grew by 6.3%, 2019 saw a slight downturn of 1.2%, marking a moderate change in trend, within a setting that had been consistently stable until that time. However, 2020 and the pandemic have brought great uncertainty to the sector, which has experienced a sharp drop of 17.24% in turnover. Industrial activity has been greatly affected and especially certain relevant machining and boilermaking customer sectors, such as the automotive industry and aeronautics" explains Aitor Alkorta, president of AFMEC.
Exports, which account for 26.41% of turnover, have fallen by 13.82% in 2020. The main export destinations were France (32.01%) and Germany (18.6%), followed by the United States (7.9%), Italy (6.4%) and the United Kingdom (4.6%).
AFMEC companies have a wide range of customer sectors, the most important of which are consumer goods and machine tools (32.4%), power generation (24%), the automotive sector (8.1%) and aeronautics (6.2%).
Despite how difficult this year has been, jobs managed to remain relatively stable, with a drop of 3.2% on 2019. Aitor Alkorta comments: "Ours is a very technified sector that needs highly skilled professionals. We invest in training our people and we are renowned for taking good care of our staff. In times of crisis like this, we work together to keep jobs safe. It's a team effort and I'd like to take this opportunity to acknowledge and give thanks for the collective effort made. We know that, when recovery comes, our people will continue to be key to our competitiveness. This is why, in spite of the sharp drop in the sales level, we are standing strong in our commitment, keeping jobs almost at the level of the prior year."
CURRENT SITUATION AND OUTLOOK
The climate is showing signs of a gradual improvement, however, the current situation resulting from Covid is still worrying. In the words of Aitor Alkorta: "The uncertainty being felt in the different client sectors due to the situation we're living through has led to a drop in order volumes and an ensuing increase in price competition. We cannot deny the evidence: these are difficult times, but I'm sure that we will overcome this. We need to act now to have stronger and more competitive companies."
The association predicts a complicated year in 2021, but one that will mark the start of the sector's recovery. It will be necessary to maintain measures that enable businesses to have the necessary cash flow and flexibility, just as we have done in 2020. Furthermore, all measures aimed at promoting industrial demand are welcome and essential to guaranteeing the future competitiveness of the businesses. Aitor Alkorta remarks: "The demands of our client sectors require strong investment. Therefore, investment support schemes are very useful tools that we appreciate because they enable companies to avail of the best manufacturing equipment and keep up and boost their competitiveness".
In addition to facing the effects of the pandemic, the AFMEC collective must focus purposefully on addressing the sector's challenges. New digital technologies are creating new business opportunities and ways to improve productivity and the sector should take advantage of this. Businesses must continually adapt to these technological changes, training their staff and fitting out their factories and equipment adequately.
AFMEC, A STRONG REPRESENTATIVE IN SUPPORT OF THE SECTOR
AFMEC is a representative body for companies from the contract manufacturing and mechanical engineering sector. In 2021, after just 5 years, AFMEC has 175 associated companies and develops activities for its members in the fields of cooperation, internationalisation, training, technology and marketing.
Its aim is to build a strong and distinct image of the sector, provide the latest information, foster business cooperation, generate networking opportunities among the various market agents and provide added value services.
AFMEC forms part of AFM Cluster, which enables it to address machining sector challenges with higher guarantees, multiplying opportunities for collaboration within the value chain, by belonging to a collective that brings together more than 500 industrial companies.