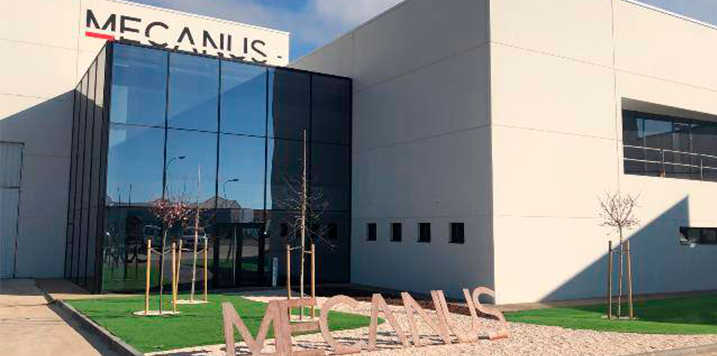 22 March, 2021
Machining companies currently offer services such as sheet processing, parts machining and turning, offering manufacturing services for both large series and geometrically complex one-offs, designing and manufacturing full subsets and performing their assembly and adjustment, treatment of different metals (steel, stainless steel, aluminium, galvanised metal, brass, bronze or copper) as well as several specific treatments for parts depending on their applications.
Spanish company Mecanus has followed this evolution, becoming consolidated in sectors such as these and embarking on a process to tap into the Defence and Aerospace industry. Mecanus currently has advanced design and manufacturing capabilities, aiming in the medium term to tackle designing its own products incorporating technology and added value. This is one of the strategies planned by this innovative SME, which is committed to engineering, adding value to its products, and exporting, a formula that has proven to be highly successful on countless occasions. While machining activity is dependent upon price competitiveness, having its own products in the medium term will enable Mecanus to compete on new markets, creating technological demonstrators that can be either offered as finished products or integrated into systems by major contractors.
For these purposes, Mecanus has opted to incorporate state-of-the-art technologies in the form of 3, 4 or 5-axis machining centres, complete with automation systems or latest-generation software tools which, paired with their milling, turning, cutting and bending tools, enables them to offer high quality products and services at reasonable cost, within tight deadlines.
Metal, in its different types and forms, is a basic product for the aerospace and defence industries as a raw material, intermediate product, or a subset processed to varying degrees. Within this need, machining processes can be highly significant in the manufacturing of parts with varying degrees of complexity, sheet bending, soldering, or different surface treatments, or a combination of these processes. They surpass raw materials or commodities in terms of value and technology incorporated and can constitute an important part of a Defence programme.
The precision machining sector in Spain has grown significantly in recent years; despite the economic crisis affecting our country with varying degrees of intensity since 2008, further complicated since last year due to the COVID-19 pandemic. Placing a focus on exports and the commitment to incorporate more technological content in the form of engineering has enabled the company to grow in terms of sales and commit to developing products in-house as a way to offset the lower profit margins obtained as a supplier of machined parts for other companies.
Source: www.defensa.com