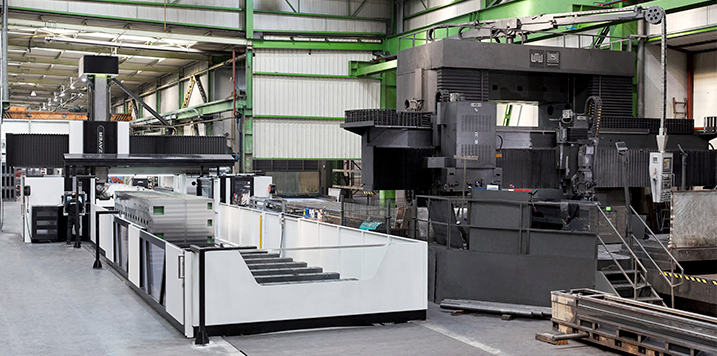 23 June, 2023
Taking its latest qualitative leap to advance in the modernisation of its manufacturing processes, Mekalerun is materialising its transformation towards Industry 4.0 by incorporating state-of-the-art technologies to automate and digitalise its production activity.
The Gipuzkoa-based company, which specialises in the precision machining of medium and large-scale parts, has fine tuned its latest acquisition. This new two-million euro investment will enable Mekalerun to diversity its activity towards new sectors and geographical markets. The recently incorporated Zayer milling machine features an 18-metre long table and, as the CEO of MEKALERUN, José Ramón López, explained to Empresa XXI, "this will allow us to take on the challenge of tackling new markets that are highly demanding in terms of part size and precision, and also to machine other types of materials". Thus, it will diversify the machining activity, which to date was focused on the treatment of cast parts, branching into machining parts made of steel, aluminium and other materials.
By improving the precision of the finishes, the grinding process can be omitted, which reduces time spent on machining and handling parts, creating a surplus of hours of availability on the grinding machine, which can go to new clients. The chief executive explains that optimising processes in this way will result in a 10 percent improvement in turnover, reaching the 2.2 million euro mark.
Furthermore, the increase in production capacity has led the company to break onto the French market, mainly with Machine Tool clients, and it plans to enter the field of parts machining for the wind power sector, initially rolling out its commercial activity nationwide.
Among its latest orders, Mekalerun highlights the recent addition of the main structural parts for a Geminis lathe, and also the 13-metre, 40-ton bed designed for the machining process.
New tools
Lastly, the company has announced that further machinery investments will be made with new acquisitions of tools and state-of-the-art equipment needed for the new machining processes. At the same time, Mekalerun will continue to digitalise and integrate the plant's processes (MES, CAM, tool management software, smart storage for cutting tools) with the company's ERP, which will lead to improvements in efficiency and in production activity management and control.
Source: Empresa XXI