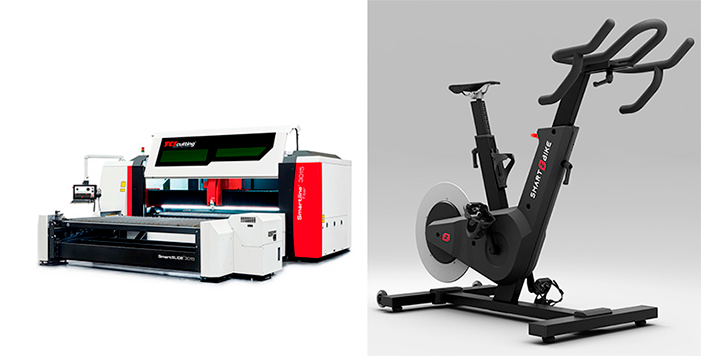 18 February, 2021
The Valencian companies MIPESA, TCI Cutting and Versa Design collaborate in the success of the Smart Zbike intelligent indoor exercise bicycle, a revolutionary technological product in the indoor training market.
Versa Design is the proprietor and parent company that, under the Zycle trademark, has developed the Zycle Smart Zbike intelligent indoor training bicycle, together with other developments such as intelligent training rollers and simulators that are also compatible with the great majority of simulators on the market.
MIPESA has taken charge of manufacturing the precision mechanical parts of the product, while TCI Cutting makes the state-of-the-art Smartline Fibre 2D laser cutter that MIPESA used to cut the material.
The perfect combination of these three companies and their respective R&D teams has enabled this innovative solution, which is a technological revolution in the market for home sports and training. The product simulates bicycle routes in all parts of the world, with amazingly realistic sensations, and is composed of high-technology mechanical and electronic elements.
The technical excellence achieved by this intelligent bicycle is a direct consequence of the combination of two factors, the high degree of experience in the sector of the three companies involved and the commitment to innovation of the teams that have worked on this project. Integral quality control at all stages of the production process has enabled this technological product to be launched in the market, to cover the demands of the most demanding customers both nationally and internationally.
This intelligent bicycle developed by Zycle is perfect for training, whether in indoor classes or for routes or workouts.
MIPESA Group has manufactured the most critical components of the intelligent bicycle, such as the axles for the flywheels used in this product. These have been produced in state-of-the-art precision lathes. The flywheels are made from steel plates 10 mm thick, cut by laser and then machined in multi-tasking lathes.
The laser cutting used 2D Smartline Fiber laser cutting machines developed and manufactured by TCI Cutting. These machines are the most flexible and accessible on the market and are especially designed for customers who seek the maximum productivity in production processes with great flexibility and the ability to be used with many different alloys. The machine can be optimized with loading systems, automatic output and storage, and the implementation of Intelligent Production Management Software to take independent strategic decisions (TCI Manager).
Source: Metalindustria.