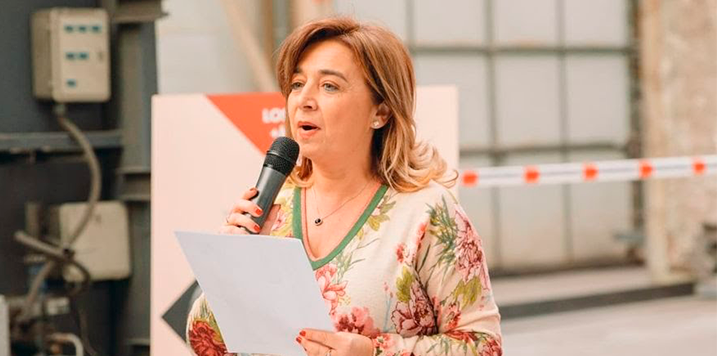 20 January, 2022
The executive director of Human Resources (HR) and Corporate Social Responsibility (CSR) of the FAED Group (Special Steel Foundry), Olga Dasgoas, has received the 2021 Entrepreneur Award from the Association of Women Entrepreneurs of Cantabria (ADMEC), for her " upward trajectory" within the metal sector.
This was announced by the president of the association, Eva Fernández Cobo, at a press conference together with the president of the Parliament of Cantabria, Joaquín Gómez.
The president of ADMEC pointed out that with this distinction Olga Dasgoas values ​​"her upward trajectory, generating wealth and employment in the region, within a very competitive, masculinized and demanding sector at a national and international level" such as metal .
In addition, he explained that for the jury the bet that Dasgoas and the FAED Group made in a pandemic by expanding their company and investing in processes that have had an impact not only on jobs - it currently employs 150 people - but on everything has been very significant. the industrial, naval and energy sector, becoming "a heavyweight" in the Cantabria sector at a "very complicated" moment.
In this sense, she stressed that it is still necessary to "make visible" women entrepreneurs in the region because "it is very important that the younger generations have close references that they can identify in their day to day life without having to look outside."
Thus, Fernández Cobo pointed out that, thanks to the work carried out by the association in these 21 years, the Entrepreneur Award "has become the most prestigious symbol to recognize female entrepreneurship in Cantabria", she highlighted.
He has also lamented that the consequences of the year 2020 "have become structural problems" for women, the great harmed by the health crisis, and has asked the public powers "not to lower their guard" because everything achieved can be lost up to now.
For his part, the President of Parliament highlighted the commitment of the regional Chamber to support this type of award that contributes to "making visible" businesswomen and entrepreneurs who are still "practically invisible" in many predominantly male business forums.
For Gómez, associations and institutions must work to make "visible" examples of female business success and thus promote and consolidate equality. "And that the new generations take them as a model and example to dare to develop their own vocation", she has said.
Olga Dasgoas received the Premio Empresaria 2021 award on December 16 at a gala dinner at the Hotel Santemar in Santander with which the ADMEC returns to its traditional format and which was attended by different authorities from the region.
Source: OK Diario.