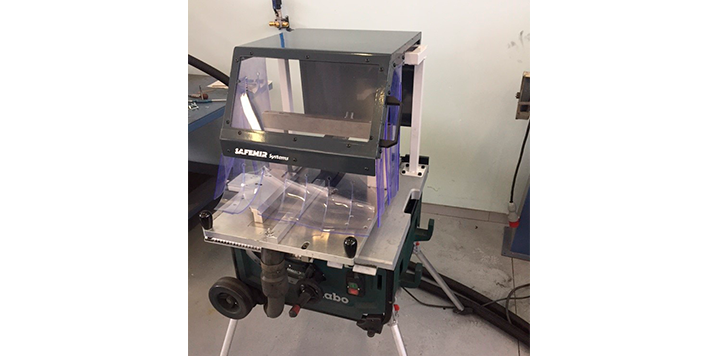 06 November, 2019
SAFEMIR SYSTEMS has presented a new unique project called "sliding protection for a circular saw". This new safety guard has been designed in response to the request by the Non-Metallic Materials Testing Laboratory (LEMNM) of the CTME Foundation.
It has been presented on a commercial machine, a circular saw adapted by a company external to the LEMNM, which integrates a sliding table used to cut samples of composite carbon fibre material with high tolerance restrictions prescribed by the requirements for the tests performed by the laboratory. Faced with this new challenge, the technical department of SAFEMIR has designed and developed a new individualised custom guard that adapts to the operating, safety and ergonomic criteria of the user.
This solution allows LEMNM technicians to work under the requirements of all safety standards without restricting functional capabilities, while improving equipment aesthetics.
SAFEMIR SYSTEMS was established in 2014 to carry out engineering and manufacturing tasks for machine fairing and safeguard projects. Today, the company specialises in custom projects adapted to the dimensions, colours and details required by its customers. It has also diversified its product portfolio with a new line intended for industrial furnishings. SAFEMIR SYSTEM activities range from the study, design and technical guidance to the installation and start-up of these product requirements in the customer's work centre.