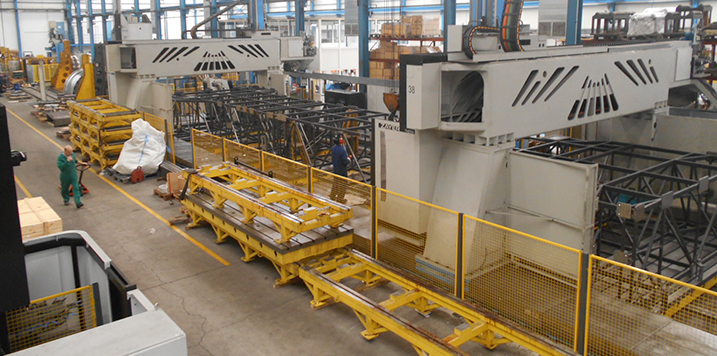 03 May, 2021
TALLERES ARATZ, one of Europe's benchmark businesses in the manufacture of large high-tech industrial equipment, participates in various hydroelectricity generation projects in Austria, China, Italy, France, Norway and Spain. The Alava-based company also addresses plans to innovate, experiment and renew technologies at its plants.
TALLERES ARATZ will contribute its mechanical engineering capacity to several of the world's main investment plans for hydroelectricity generation. The commissions from the groups Andritz, Rainpower, GE and Voith will entail machining, assembling and certifying twelve turbines, 24 injectors and 37 poles for installations in Austria, China, Spain, Italy, France and Norway.
As explained by the CEO of ARATZ, Karlos Balsagetui, to Empresa XXI, "The positive result in the hydroelectricity field has offset the drop in the aeronautics market, although in a time of pressure to reduce prices". This is why the company has designed various investment plans in workshop and technological innovation resources which "will increase our competitiveness and industrial capacity in order to keep us as a European reference in the manufacture of large high-tech industrial equipment".
TALLERES ARATZ currently has over 35 machines in its two plants located in Vitoria and Berantevilla, which, as Balsategui remarks, "we will reinforce with the incorporation of latest generation equipment. In the past, we opted for adding to ranges and dimensions, but now we are prioritising more technological aspects". Within this plan, in 2020, a BOST vertical lathe entered into production, measuring 4.5 metres in diameter by 3 metres in height, whereas now the purchase of a milling machine is being finalised, measuring 6 metres in length by 3.5 in width, which will replace the two machines currently in service.
The renewal plan will be projected annually in a company that has the capacity to machine pieces of up to 26 metres in length by 5 metres in width with two tabletop ZAYER machines working either in tandem or separately.
The availability of these resources and the company's over 45 years of history, as Karlos Balsategui highlights, is endorsed by the order placed by Andritz to repower the Verbund Group's plants in Malta and Obervellach, Austria. Specifically, thirty-two injectors will be delivered, made up of three dozen parts each and weighing six tons per unit. The equipment will pass, among other requirements, testing at 180 bars of water pressure and specific materials and welding certifications.
Furthermore, several subsidiaries of Voith have commissioned the delivery of three turbines and twelve injectors for the new 'Nam e Moun' hydroelectricity plant in China. Voith Italy will receive nine Pelton turbines for Enel's 2021-2023 hydroelectricity plan in Italy and 37 polar bodies for Iberdrola's plant at La Muela. In the latter case, machining will use 11-ton billets of 30NICRMO8 forged steel -to date cast metal was used- in order to improve the fatigue-resistance of the pieces with a final unit weight of 5.5 tons.
In the innovation field, ARATZ works for Idom in the preparation of components for scientific installations in the area of nuclear energy, while tackling the last phase of the Hazitek Adit4All 2019-2021, which seeks to capture knowledge for the possible introduction of additive manufacturing into its workshop, applied to the more complex parts of large tools and moulds. On this topic, Karlos Balsategui remarks that "this technology has grown in the mechanical realm, but still needs to see more forceful improvements in terms of the resilience of metal parts".
Source: Empresa XXI