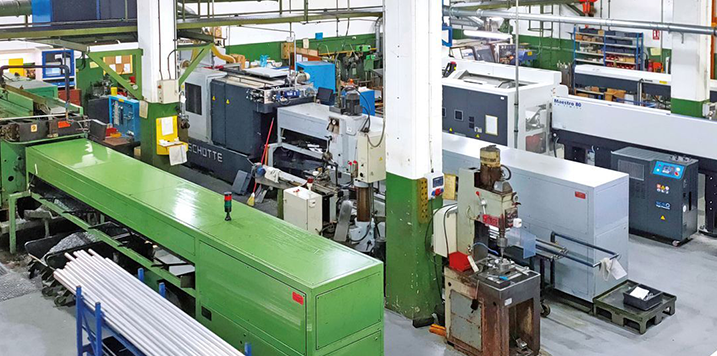 24 November, 2022
Talleres Mendizabal is celebrating 60 years in the business of turning and manufacturing self-locking nuts for the railway, energy and automotive sectors. It intends to expand further into these fields through progressive diversification, which is one of the key goals of its latest three-year strategic plan, launched in 2021. According to company CEO Joseba Etxeberria, "diversification has been one of our strategic objectives in recent years". Focusing sales efforts on breaking into new markets and sectors, "we are currently in the process of standardising several items for household appliances, which will boost our turnover by around 10 percent".
Standardised items for household appliances
To approach these new markets and to meet the needs of its customers, in recent years Talleres Mendizabal has embarked on a scheme to modernise its turning equipment and incorporate new technologies and work methods. Along these lines, this year it is executing several projects, including the acquisition of a Nakamura WY-150 turning centre with Ø65 bar passage, equipped with a spindle and sub-spindle and two turrets with Y axes. This new piece of equipment will enable enhancements in the processes of the current parts and allow new parts to be added, with greater added value. In addition to this new turning centre, a transfer machine for the self-locking nut line will soon be installed. This will complete the second phase of the global project undertaken to improve production capacity in self-locking nut machining. As Etxeberria explains, in 2017 the company brought in the first machine for machining M03 and M12 nuts and "the current equipment will enable us to machine nuts of between M06 and M24". It is equipped with a viewing system in the input module and 3 controlled servo units for machining our self-locking nuts.
Adapting an adjacent industrial bay purchased in 2021
Another of the projects recently undertaken is the optimisation of the lighting system and installation of photovoltaic panels with a wattage of 80 Kw, producing an estimated 97,000 kWh/year. Previously, the lighting system was improved with the installation of presence detectors and LED lights. The company estimates that self-consumption in periods of activity and the sale of the surplus generated in periods without internal consumption will lead to energy savings of 35 percent, generated in an environmentally sustainable manner. Another example of innovation is the upcoming installation of a new test bed for the self-locking nut line. This equipment will facilitate enhancements in product features, addressing the increasingly demanding vibratory machining needs. On top of the projects described above, mention must be given to the adaptation of an adjacent industrial bay acquired in 2021, as well as the improvement and modernisation of the remaining installations in terms of gender equality and digitalisation between 2023 and 2025.
60 years of history
Talleres Mendizabal was founded in 1962 as a hand tool manufacturer for a nearby company. Since most of those tools incorporated turned parts, a turning line was installed which was comprised of revolver lathes. This line opened its doors to other types of manufacturing, such as connectors and automotive parts, enabling continued growth until 1973, when the first multi-spindle lathe was introduced. In 1981, the company was incorporated as a limited liability company and manufacturing became concentrated on the production of turned parts for the automotive, railway, domestic appliances, connectors and building sectors, among others. In 1996, the company moved to the 1,300 m2 industrial bay it occupies in the Argixao Industrial Estate, which has been gradually extended to a current surface area of 2,000 m2.