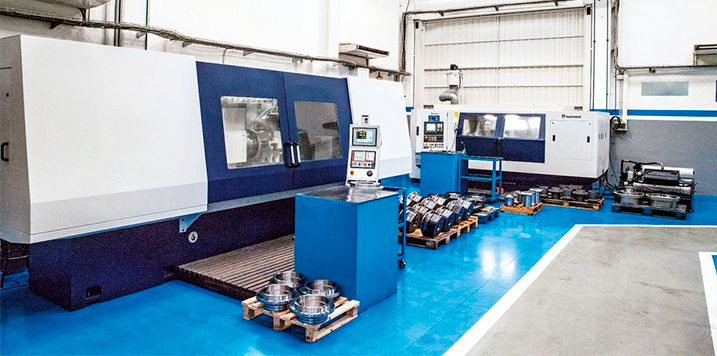 07 June, 2022
MECANIZADOS TXIMI is in the midst of implementing a growth plan to increase its production capacity and improve its factory's efficiency, based on three mainstays: incorporating new machinery; developing a comprehensive production and management digitalisation plan; and installing photovoltaic panels for in-house power consumption.
The plan to invest in new equipment includes purchasing a multi-task machining centre in the near future, which will integrate the turning and milling process, involving an injection of 500,000 euros. With a capacity to handle parts with diameters of 600 x 2000, the multi-task centre will increase the speed and accuracy of the process, which will enable the business to increase its capacity to take on incoming orders from the aeronautics sector in the French market.
This investment is in addition to the incorporation of a CNC GER grinding centre and a semi-automatic Palmary grinding machine, recently integrated in the manufacturing operations; after a purchase outlay of 400,000 euros.
Integrating this equipment, alongside an increase in the current workforce, will increase the company's grinding capacity by 25 percent, thereby enabling it to respond to growing demand in the grinding area, and increase turnover by between 10 and 15 percent in 2022, reaching a forecast 3.1 million euros.
This expansion in capacity will be paired with a digital transformation process incorporating a real-time machine surveillance system, connected to the ERP; as well as the installation of smart cabinets to optimise and control the company's tools and tooling systems. Company sources explain it is "a solution with which we are advancing towards a totally digitalised smart factory that will improve our competitiveness and bring cost and time savings".
Energy efficiency
The production costs of the Gipuzkoa-based company will improve after the installation of a 50kwp photovoltaic solar power plant, capable of generating 5,000 kwh of energy from renewable sources, preventing the emission of 50 tons of CO2 per year.
The energy generated will cover 25 percent of the production process's annual power consumption.
Source: Empresa XXI