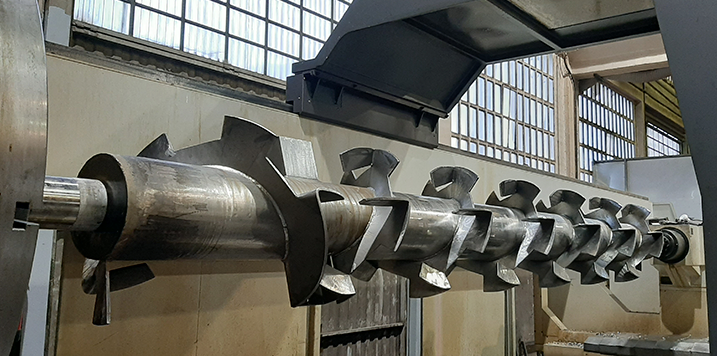 23 April, 2021
Construcciones Mecanicas Aranzazu (COMECARAN), a company in Biscay dedicated to the manufacture of industrial equipment and steel transformation, will reinforce its means of production shortly by acquiring a milling-boring machine that will enable it to increase its production capacity more than two-fold. This operation perfectly suits two of the company's main strategic goals: modernisation and diversification.
The new mobile column equipment acquired from MTE Milling Machines in Guipuzcoa has a travel of 5000 mm and 2750 mm on its Y axis and can work with parts weighing up to 20 tonnes. This is the most important investment by COMECARAN in recent years, assisted by the financial support of the Spri and Elkargi.
This state-of-the-art milling-boring machine will be used by the company to diversify the sectors and customers it works with. On one hand, it expects to take a step forward and increase its involvement in the defence and casting industries where it is currently engaged, though not intensely. On the other hand, the company hopes to begin collaboration with the railway and wind power industries, "the strong horses of the moment", given that the lack of high-performance equipment barred their way until now.
The purchase of the machine manufactured by MTE will go hand-in-hand with a new layout of the boiler works, welding and machining facilities in Arantzazu, where they will gain space to undertake larger assembly projects, which could only be carried out until now in their Artea facility, dedicated exclusively to these types of projects.
By continuous modernisation of their means of production, in line with their strategic plan ending on 2023, Comecaran also envisions completing the renewal of its workshop cranes by acquiring three new cranes in the mid term, capable of handling parts up to 20 tonnes.
The company's plans for the third focus of their strategy, internationalisation, involve a sharp increase in their presence in France, where they have already significantly increased their customer portfolio in only a year and a half and then focusing directly on the German and Saudi Arabian markets, where they have only worked through third parties so far.


Source: Empresa XXI.