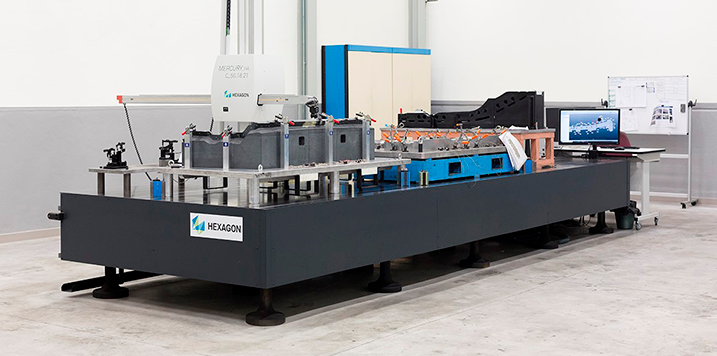 08 February, 2021
ORAN is a manufacturer with over 70 years' experience in the development and production of automobile body parts, such as wings, hoods, internal facings and struts, as standard parts, replacement parts or custom series. Their installations in the city of Santander cover a surface area of 40,000 square metres.
In line with its proven philosophy of continuous improvement, ORAN has increased its measurement capacity by adding a Hexagon Mercury HA-C1 to its metrology hall. This state-of-the-art measuring machine includes point-to-point multi-sensor and non-contact laser measuring technology. It also incorporates linear temperature compensation.
In the specific field of car body part stamping, ORAN has increased the flexibility of the manufacturing validation processes on its 4 tandem stamping lines by having the measurement models of the different on-line parts simultaneously on the bench, reducing the number of model loading and alignment operations, significantly reducing waiting time on the stamping lines for quality testing.
This is a clear step forwards in measuring capability that allows ORAN's quality-control team to measure more and better, for more effective control of the stability of its stamping processes and faster verification of the conformity of machined parts, with dimensional reports that include colour mapping to facilitate the interpretation of the results.
In addition to providing this service to the production department, the Hexagon Mercury HA-C1 allows ORAN's quality-control team to offer this metrology service to third parties. The bench dimensions (5.6m x 1.9m) and a nominal Z extent of 2.1m, coupled with its precision of 20.1 microns, make it ideal for measuring parts of many sizes and types for many market sectors.